Share your voiceover demos in a sleek and engaging way with a video demo.

Let's face it. Nobody "listens" to audio on social media anymore. In order to stick out -- your post has to be visual. Jordan will take your existing audio demo and design a clean and stylish video around it. Contact Jordan for rates.
WHAT ARE YOUR DEMO RATES?
---
Audio demo rates vary by demo type: Commercial, Narration, Explainer, Video Game, Promo, Animation, etc. Contact me for details. Video Demos and Video Reels also vary.
---
SO WHY SHOULD I WORK WITH JORDAN?
---
See what Jordan's past clients have to say: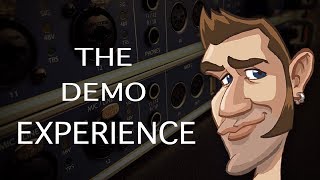 ---
I DON'T LIVE IN LOS ANGELES. CAN YOU PRODUCE MY DEMO REMOTELY?
---
Yes. Thanks to modern day invention of "The Internetz" -- I record and direct voiceover talent all over the world. I first evaluate the quality of your home studio to ensure it's up to professional standards (You don't want to sound like crap in your demo, now do you?). Come session time, you'll be directed and recorded over Source-Connect, Source-Connect Now, or ipDTL.
---
WILL I NEED MY OWN SOURCE-CONNECT OR IPDTL ACCOUNT TO WORK WITH YOU?
---
Nope! I've got this all covered. I have paid accounts for both services so you don't have a pay a dime. Plus, dimes aren't used much anymore.
---
I'M NEW TO VOICEOVER WITH LITTLE TO NO TRAINING. WILL YOU PRODUCE MY DEMO?
---
Most likely no. Why? Because I'm not evil. I don't just take anyone's money. When necessary, I'll conduct a free 15-minute evaluation to determine if you are truly ready to make a fresh, new demo. I'll direct you and evaluate your current skill level, instincts, and range. The demos I produce are of the highest quality standards, but not even great production and directing can mask poor-to-mediocre voice acting skills. A poorly made demo, production and/or voice over skills-wise, may harm your career. Agents and producers rarely forget a name associated with a bad demo and you may not get the opportunity to redeem yourself in the future. If a demo producer agrees to take your money and make you a demo without even getting to know you, your training, background, and skill level -- RUN.
---
I'M NOT IN LOS ANGELES AND DON'T HAVE MY OWN RECORDING STUDIO, IS THAT OK?
---
Yes, if you love paying money to an outside pro studio every time you need to record yourself. In virtually all markets, if you want to have a successful career in the voice-over industry, you must have your own professional home studio. It's expected by agents and voice seekers that you have a home studio. Fortunately, in this day and age, putting together a quality home studio is very affordable. If you need help designing or troubleshooting your home studio, I offer remote studio consultations. Contact me for details.
---
ARE CATS NINJAS?
---
PROOF:
---
---